Pastels are more than colored chalk or powdered earths such as those found in the earliest surviving art deep in age-old caves. Good pastels are soft, creamy sticks of pure pigment mixed with a binder – the closest you can get to applying vibrant, unmediated color directly to a surface.
Renaissance artists such as Michelangelo and Raphael routinely used colored chalk for sketching and for "cartoons," preliminary drawings for wall and ceiling frescoes. Leonardo, however, used it in a manner approaching what we would consider finished pastel work, and his masterworks in colored chalks are at times duly referred to as pastels.
Pastels moved closer to painting than drawing in the 18th century, when a massive fad for detailed pastel portraiture gained ground. The earliest finished pastels in Italy were made by Benedetto Luti (1666–1724), who gifted his patrons studies of heads and portraits in the medium.
However, pastels began to take on outsized importance when Joseph Vivien (1657–1734) became the first artist to be received in the French Académie Royale de Peinture et de Sculpture in 1701 as a "painter in pastel." Soon after, Robert Nanteuil was being employed by the king for his monumental, life-sized pastel portraits of the French nobility.
But the first truly internationally renowned pastel artist was Rosalba Carriera (1673–1757) of Venice. She began as a painter of portrait miniatures, then considered an appropriate genre for women. Breaking free, she became the "first pastel artist" as someone truly internationally renowned for and defined by her pastels. Her large pastels sold to princes and courts across Europe, where they were hung, in explicit competition next to conventional oil portraits. She brought new status to the genre, establishing pastel painting as worthy of equal air time with oils.
Carriera's c. 1746 self portrait is remarkable for its frank honesty, bravery, and originality. At a time when artists depicted women as idealized submissive beauties intended to appeal to the appetites of powerful men, Carriera depicted herself realistically, clear-eyed, and with a calm, serious, and hard-won self assurance. Her hair, ordinarily expected to be shown flowing and lush, exists only as a thin haze. The artist has crowned herself with laurels – the symbolic adornment of victory and historic achievement. She was going blind when she painted it, undoubtedly aware it would be among her last works, as her life as a painter was coming cruelly to an end at the age of 73.
John Singleton Copley, Ebenezer Storer II ca. 1767
This portrait by American John Singleton Copley gives a sense of the use to which other (most) 18th century artists put pastel. Copley, who ordered his (then rare and expensive!) pastel crayons from our next artist, Jean-Etienne Liotard, produced more than 50 pastel portraits before leaving Boston for London.
Pastel moved away from portraiture through works such as those by Jean-Étienne Liotard, a Swiss painter, art connoisseur and dealer, known for achieving a peak realism in pastels. Applying pastel to smooth, compressed parchment rather than ordinary paper, he was able to create painstakingly detailed realist works like The Chocolate Girl (c 1744-45). Liotard's treatment of the glass of water and the many varied surfaces and textures throughout the painting is a tour de force of the medium's capabilities, even today.
Many great artists, including Renoir and Picasso, made pastels a part of their ouvres, and below you'll find a sampling of several.
Two turn of the century artists, however, one American and one European, who regularly worked in pastels used them regularly to create their most innovative and distinctive works – Odilon Redon in France and John Henry Twachtman in Connecticut.
Eugene Delacroix
French Romantic artist Eugene Delacroix mapped out his dramatic, larger-than-life paintings in preliminary pastel drawings. In addition, Delacroix seems to have enjoyed the medium for its own virtues; this vivacious garden sketch was very likely done en plein air.
Jean-François Millet
Jean-Francois Millet, "Dandelions," ca. 1867-1868 (Photo: Wikimedia Commons Public Domain)
Like Delacroix, Jean-Francois Millet would often employ pastel to sketch out ideas for his paintings as well as make color drawings from nature, including sunlit landscapes, quiet seascapes, and enchanting studies of flora, like his small Dandelions above.
Claude Monet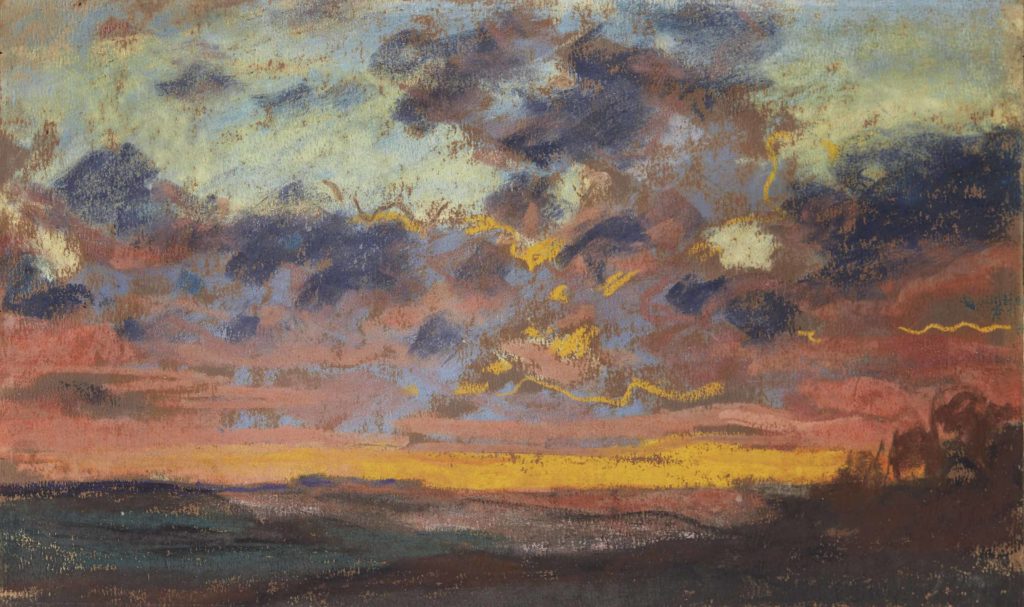 Claude Monet, Coucher De Soleil, c. 1868
Pierre-Auguste Renoir
Pierre-Auguste Renoir, "Boating Couple," ca. 1881 (Photo: Wikimedia Commons Public Domain)
Renoir loved hazy passages of vibrant color, so the medium was a perfect fit for him. However, he typically reserved pastels for personal depictions of friends and family, as it enabled him to craft intimate and authentic "snapshots" of those he cared about the most, and he didn't exhibit those paintings regularly.
Edgar Degas
In contrast, Edgar Degas, one of the most prolific in the medium (Degas created over 700 pastel drawings), embraced the medium for his public work, coming to prefer pastels, largely for their experimental capabilities, the longer he used them.
Mary Cassatt
Like Degas, fellow Impressionist Mary Cassatt liked the medium not only for its speed of execution but for its inherent qualities and experimental potential; she delighted in painting passages in her otherwise quiet portraits of women and children with bright palettes and vigorous, visible mark-making — qualities inherent to the medium itself. Casatt established the world of mothers and children as a subject worthy of high art.
Odilon Redon
Odilon Redon was a late 19th century visionary artist whose dreamlike work resonates with mysticism yet anticipates future movements, such as surrealism, abstraction and even Pop Art, some might say. Initially an engraver, his approach shifted from grouping together small linear marks in his earliest pastel works, such art he one below, to blending and shading, as in the example above. The constant remained his innovative use of vivid, vibrating colors.
John Henry Twachtman
American landscape painter John Henry Twachtman painted at least six versions of The White Bridge, a depiction of Horseneck Brook, which crossed his Connecticut property. "Compression of pictorial space and the use of a strong diagonal reveal Twachtman's debt to, and admiration of, Japanese aesthetics," comments the Minneapolis Institute of Art that owns this work. "The key elements of the composition (i.e., the brook, the bridge, and branches of the foreground tree) all converge and focus the viewpoint, while touches of emerald evergreens frame the White Bridge for emphasis." Twachtman is thought of as a Tonalist or an American Impressionist (he's both). Fond of pushing his compositions of natural scenery a good way toward pure abstract design, he deserves recognition for creating some of the earliest "abstract landscapes" too.
Pablo Picasso 
Modernist master Pablo Picasso really did pioneer abstraction. Capable of high quality work in nearly every medium there is, he used pastels throughout his career, and even helped pioneer professional-grade oil sticks. While oil pastels had been on the market since 1925, they were typically low in quality and intended for younger artists and students. In 1949, Picasso, through a friend, nudged art supply  manufacturer Henri Sennelier to create a new and improved oil pastel that quickly became the standard.
Contemporary pastellists such as teaching artist Brenda Boylan, continue to emphasize emotion and visible mark-making as key aspects of sound pastel creation.
Yet myths about pastels abound. Just ask Gail Sibley, a top pastel artist and advocate. Sibley this week is giving a free talk in which she'll address misconceptions about the fragility and permanence of pastel colors. That's only part of her talk, however, which is titled The Future of Pastel: The Grand Vision and is sure to interest those with a stake in the sticks, as it were.
---
How to See Banksys in the Wild
There's now an online guide to the best preserved Banksy paintings in cities all over the world, with photographs of the works.
"Nowadays everyone knows Banksy," the article begins, but "they actually only know his name and his art, since he still remains anonymous. Many wrote and write about him, his identity, his artistic portfolio, and the meanings behind it. This article will be different – it aspires to be an art city guide.
American cities include New York, New Orleans, Los Angeles and San Francisco.